Hotel U Raka 4*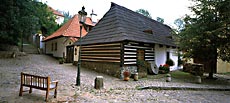 In the heart of Europe, in the historic town of Prague, only five minutes by foot from Prague Castle, on the ancient, winding streets of Nový Svet, just behind the Loreto Church, you'll find the small and charming "Romantik Hotel U Raka". This building which dates from the end of the 18th century is the only preserved wooden house from this era and was recognised as a cultural monument.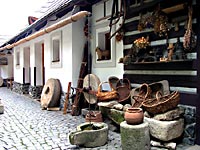 The romantic interior, a construction using many natural building materials, along with many plants and clear splashing water features creates an inviting and cosy atmosphere. The six comfortable guest rooms - the most exclusive of which has an open fireplace and a winter garden - and the central but quiet location make the Romantik Hotel "U Raka" a good place to know. It is the only hotel in the Czech Republic that enters into the European system of Romantik Hotels & Restaurants International and its rooms fully correspond to the high standards of this system.
We recommend this hotel to romantic couples and lovers of real beauty & comfort. For those who appreciate the time spent alone with a beloved more than hustle and bustle of the busy tourist city. This hotel is an ideal place for guests who have chosen our "Romantic Tour" package in Prague.

BOOK YOUR HOTEL
| | Double room | Exclusive Double room | Single room | Triple room |
| --- | --- | --- | --- | --- |
| Law season | 90 | 105 | 170 | 65 |
| Middle season | 100 | 110 | 180 | 75 |
| High season | 110 | 120 | 190 | 80 |

* Prices are in euros / per night / per person / with breakfast
| Law season | Middle season | High season |
| --- | --- | --- |
| 2.01.06-30.03.06 | 1.07.06-30.08.06 | 1.04.06-30.06.06 |
| | 1.11.06-15.12.06 | 1.09.06-31.10.06 |
| | | 16.12.06-1.01.07 |